St. George Island – Gulf Beaches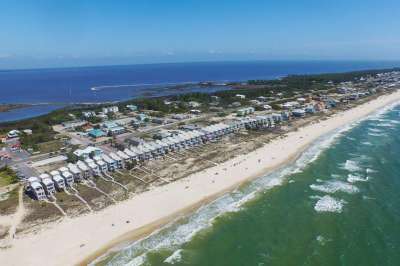 St. George Island Gulf Beaches is the neighborhood at the center of the Island. It is the original real estate development started in the 1950s and 1960s. The Gulf Beaches consists of approximately 1,400 third-acre single-family home sites, upon which there are currently about 900 homes. The only area of the island zoned for commercial use lies at the center of the Gulf Beaches area, where the Bryant Patton Bridge lies on Bay side and the St. George Lighthouse and public beach area is on the Gulf side. The county Lighthouse Park also features a playground and basketball court. The Gulf Beaches section boasts a 70-acre State Preserve on the Bay Side, and white sand beaches along the entire Gulf side. Public access to the beaches is generously convenient for all Gulf Beaches residents, with wooden boardwalks at several locations and many pedestrian easements. On the Bay side of the Gulf Beaches area, Regatta Park offers a picnic shelter and a launch area perfect for kayaks and small boats.
Come make St. George Island, Florida your Home!
St. George Island is the perfect place to move to if you want to escape hectic city life. Enjoy a relaxing time on the sand, go kayaking in the Gulf of Mexico, fish in the Apalachicola Bay, or explore Dr. Beach's 2021 #4 Best Beach in America The Dr. Julian G. Bruce St. George Island State Park!
St. George Island, FL, is a barrier island along Florida's Forgotten Coast. It's an amazing location that lacks many of the crowds that traditionally congregate along Florida's beaches. From beautiful state parks to dog-friendly beaches, you'll find plenty of natural sites to enjoy.
St. George Island is a fantastic place with gorgeous beaches. The untouched sands and beautiful natural sites are easily the biggest attractions of the area. Sit back, relax, and enjoy some time away from the hustle and bustle of everyday life. Want to get some shopping done? St. George Island features a plethora of unique shops to browse. Would you like to indulge in seafood? Check out one of the many beachfront restaurants. There's so much for you to see and do that you're guaranteed to find something you'll love. Learn More About St. George Island here!
When you're done on the beach, you can retreat to your amazing coastal home and watch the gorgeous sunset.
Finally find the perfect place by contacting a top real estate agency in the area. At The Naumann Group, a buyer's agent from our team is ready to help you hunt down the right waterfront property, land for sale, and more.
The Gulf Beaches' Newest Listings