St. George Island – The East End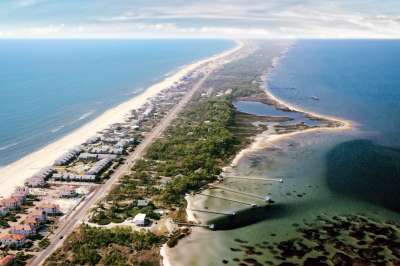 The residential section of the island lying between The Gulf Beaches section and the Dr. Julian G. Bruce St. George Island State Park, while not actually the "end" of the island, is referred to by locals as "The East End." Originally sold in the 1970s as large tracts ranging from five to fourteen acres each, those tracts have eventually developed as a variety of small subdivisions, some gated and most maintaining a density of one home per acre. Exceptions to the density rule are the 99-unit Townhomes at Three Hundred Ocean Mile, and the Mediterranean themed gated community of Sunset Beach. A variety of home styles can be found on the East End, from simple beach cottages to lavish homes on estate-size parcels. Pedestrian access to the beach or bay on the East End is primarily by private easements.
Come make St. George Island, Florida your Home!
St. George Island is the perfect place to move to if you want to escape hectic city life. Enjoy a relaxing time on the sand, go kayaking in the Gulf of Mexico, fish in the Apalachicola Bay, or explore Dr. Beach's 2021 #4 Best Beach in America The Dr. Julian G. Bruce St. George Island State Park!
St. George Island, FL, is a barrier island along Florida's Forgotten Coast. It's an amazing location that lacks many of the crowds that traditionally congregate along Florida's beaches. From beautiful state parks to dog-friendly beaches, you'll find plenty of natural sites to enjoy.
St. George Island is a fantastic place with gorgeous beaches. The untouched sands and beautiful natural sites are easily the biggest attractions of the area. Sit back, relax, and enjoy some time away from the hustle and bustle of everyday life. Want to get some shopping done? St. George Island features a plethora of unique shops to browse. Would you like to indulge in seafood? Check out one of the many beachfront restaurants. There's so much for you to see and do that you're guaranteed to find something you'll love. Learn More About St. George Island here!
When you're done on the beach, you can retreat to your amazing coastal home and watch the gorgeous sunset.
Finally find the perfect place by contacting a top real estate agency in the area. At The Naumann Group, a buyer's agent from our team is ready to help you hunt down the right waterfront property, land for sale, and more.
The East End's Newest Listings